If you've lived in Colorado for any length of time, you know how susceptible the area is to severe storms. It's so common for disturbances to rip through that the region where Fort Collins Roofing Company serves has been nicknamed "Hail Alley." Strong winds blow in accompanied by small to abnormally large hail that leads to significant roof damages for homeowners and commercial buildings alike. When one of these systems makes its mark, it doesn't take long for our customer service team to start receiving calls from residential customers and business owners that have suffered slight to severe issues.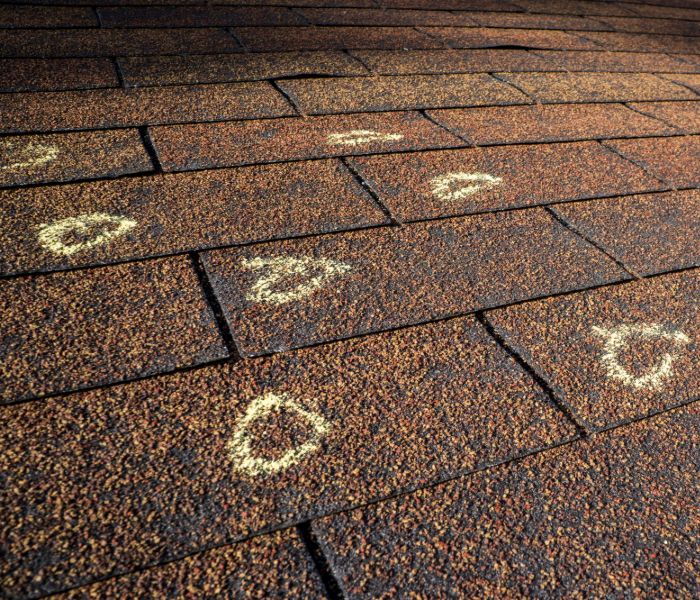 Hail damage roof repair in Wellington is something that we know can't wait. That's why we offer 24/7 emergency roof services. As soon as hail hits your roof, the area where the impact occurred is vulnerable to the outside elements. Even the most durable materials can't always withstand the force that comes from some of these heavier precipitation situations. Unfortunately, there are a lot of dishonest roofing companies in this line of work. Many of them will watch for bad weather, and they prey on desperate individuals. "Storm chasers" will travel to Colorado from around the country when they know people are desperate for hail damage roof repairs, and they have no qualms about sinking their teeth in.
A few years ago, we had one of the worst storms that we had ever seen. A gentleman called us, told us what he was dealing with, and got his FREE, no-obligation estimate. He gasped at the price and said to us that there were men in trucks driving around his area, offering to do roofing repairs for much less. He thought it sounded too good to be true, and that's why he made the wise decision to get another opinion from our locally owned and operated company. We ended up doing his hail damage roof repairs, but a few weeks later, he called us back. It wasn't to complain, though. He wanted to let us know that his suspicions were right. His neighbors that had hired the other guys found that their repairs didn't hold up even for that short length of time. Now the company that did the work was nowhere to be found and their money was gone too. Rest assured that Fort Collins Roofing Company is here to stay, and everything we do comes with a 100% satisfaction GUARANTEE!
Hail damage roof repair in Wellington is something you can't afford to wait around for. The experts from Fort Collins Roofing Company are standing by ready to be sent to your home or commercial location 24/7! We do FREE roofing inspections, and everything comes with a 100% satisfaction GUARANTEE!