Finding affordable roofing in Fort Collins is a concern for many homeowners, as roof repairs and replacement often costs anywhere from several hundred to several thousand dollars! Homeowner's insurance also rarely pays for needed roof repairs or a new roof installation, which is why finding a Fort Collins roofing company you can trust and afford is vital!
There are no easy answers as to how to find a Fort Collins roofing contractor you can trust, but you might note some vital tips to consider before you start shopping around! These simple tips will make it easier to narrow down your choices and know that you'll end up with roof repairs or a new roof installation for a Fort Collins structure you can trust.
Finding Affordable Roofing in Fort Collins Online
Most homeowners will look for affordable roofing for a Fort Collins home online. Since anyone can create a fancy website that looks enticing, how do you narrow down those choices? One important step is to look for reviews away from their website! Check Google, Angie's List, and other such sites where former customers can leave honest reviews of a company's work.
A Fort Collins roofing company's website should also give you lots of information about that company and their contractors. It might note their years of experience or how long they've been in business, the type of shingles or other materials they use, their warranty and guarantee, and other such vital information. This ensures that they're not trying to hide anything from potential customers, such as not offering a guarantee or only using off-brand products.
Note, too, that a website should be easy to navigate and make it easy for you to contact someone and get a quick response. A cumbersome website without clear contact information might indicate that a roofer isn't necessarily concerned with his or her customers and their convenience. Also, if you can't contact a roofer easily through their website, how easily will you be able to contact them once they're on the job?
Affordable Roofing in Fort Collins Shouldn't Mean Cheap Roofing!
When searching for affordable roofing in Fort Collins, ensure you don't choose the cheapest roofer you can find! Sometimes a Fort Collins roofing contractor will deeply discount their work because they're using low-quality shingles and tiles, or have very little experience in roof repairs and installation.
While it might be tempting to choose the cheapest Fort Collins roofing contractor you can find, note that saving money on repairs or installation now can mean more otherwise unnecessary repairs over the years! Cheaper shingles and tiles might tend to crumble or tear, or just blow off a roof more easily than high-quality, thick and durable shingles. Thinner shingles and tiles also offer less insulation for your home's interior, increasing your utility costs.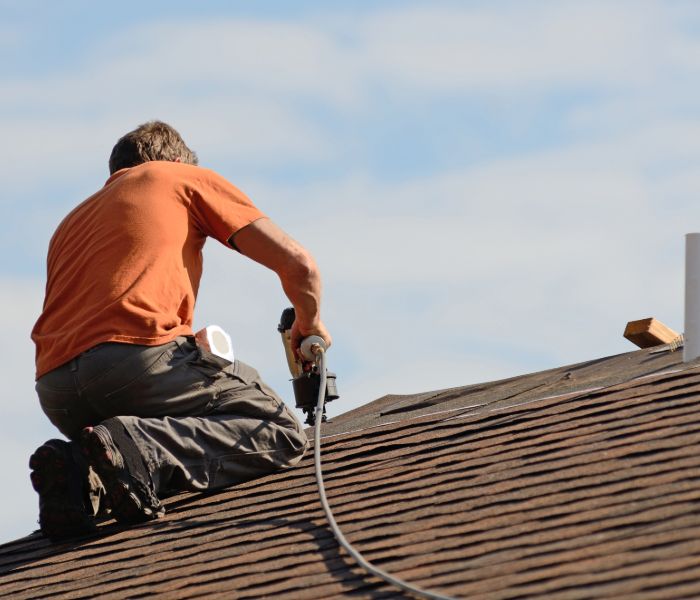 An inexperienced roofer might also offer a low-quality installation or poor-quality repairs. He or she might overlook damaged decking, the plywood foundation underneath shingles and tiles, or torn flashing, the metal pieces installed along trenches or between shingles and chimney stacks. Poor-quality repairs don't last very long so that you might need to pay for those same repairs within just a few years, making a trained and experienced roofing contractor in Fort Collins worth the investment no matter their costs.
Ask for an Inspection Before Roof Repairs in Fort Collins
Before you schedule roof repairs for a Fort Collins home or decide you need a new roof installation, schedule a roof inspection! A roof inspection tells you exactly what needs fixing and if the roof is salvageable, or if you need a new roof. Once you have this information in hand, you can discuss your needs with various roof repair contractors in Fort Collins.
Knowing what's needed for roof repairs or a new roof installation also reduces the risk of having a contractor tell you that you'll need added fixes! You'll then save money on unnecessary repairs or know if it's time to budget for a new roof altogether.
How to Pay For Your Affordable Roofing in Fort Collins
Once you know your needed roof repairs for a Fort Collins home and have narrowed down your contractor choices, how do you afford that work? Some roofing companies offer financing to their customers, which might be cheaper than financing through a bank. You might also qualify for a home improvement or home equity loan through your bank or mortgage lender.
Your roofing contractor in Fort Collins might have suggestions for how to lower your roof repair costs. For instance, adding roofing over the existing shingles or tiles saves the cost of a full tear-off. Fiber cement shingles might also be more affordable than asphalt shingles or other materials, while reclaimed or recycled materials can also save you money on the reroofing you need to have done.
It's also helpful to ask your Fort Collins roofing company about discounts, discontinued materials, tax rebates, and other such financial incentives. Most are more than happy to work with their customers and find ways to save them money, so don't hesitate to speak up and ask about how to better afford needed roof repairs or installation!
In some cases, you might also stretch out your repairs over time. For instance, you might schedule half your needed repairs this month and half in another few months, when you can better afford them. If you need a full-scale roof installation, your roofer might install one-quarter of the roof now, one-quarter next year, and so on; in turn, you pay for one-fourth the costs every year.
One last thought about your needed roof repairs or installation; remember that a home's roof is a vital part of its structure and installation! No matter the costs, avoid putting off your affordable roofing in Fort Collins. A new roof or needed repairs is an investment in your home's condition and appearance, so ensure you schedule that work as soon as possible once you know your home needs a new roof or roof repairs!